Salad
Golden Beet And Shallot
Warm roasted golden beets and baby greens in a creamy vinaigrette with caramelized shallots and a handful of toasted walnuts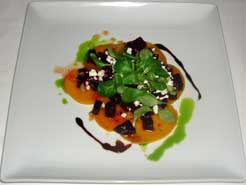 Asian Pear Salad. Roasted Beet Salad
The Asian Pear Salad, with toasted almonds and butter lettuce was so light, and so good. We were truly happy with our choices; all of the appetizers

were light, fresh, beautifully presented and so fresh!
Beet and Asian Pear Salad
(recipe from Piera Gelardi)
serves 10

Ingredients:
2 bunches red beets
2 bunches golden beets
2/3 cup slivered almonds
9 tablespoons olive oil
3 shallots, minced
3 tablespoons red wine vinegar
juice of 1 lemon
2 large asain pears, sliced thinly
1 pound baby arugula leaves
1 tablespoon sugar
sea salt
fresh ground pepper
Preheat oven to 400. Wrap bunches of beets in tinfoil and roast for 1-1/4 hours. Sautee slivered almonds in olive oil until golden brown, drain, reserve oil, and set aside to let cool. Season with salt.Whisk shallots, vinegar, lemon juice, sugar, oil from the almonds, salt and pepper to taste together.
Once the beets have cooled down, mix them with the shallot dressing and pears, serve on a plate with portions of arugula.
Another great vegetable recipe to try...
Beet and Asian Pear Salad with Baby Greens
. Great recipe !
INGREDIENTS:
4 Trimmed beets (about 1 pound); scrubbed
1 Asian/Bartlett or Anjou pear
1 tb Apple jelly
2 ts Fresh lemon juice
1/2 ts Dijon mustard
1/4 lb Mixed baby greens; (about 4 cups loosely packed)
Garnish: chopped fresh chives
In a saucepan simmer beets in water to cover by 1 inch, covered, 40 minutes or until tender. Drain beets and cool. Beets may be prepared up to this point 1 day ahead and chilled, covered.
Peel beets and cut into 3/4-inch wedges. Peel and core pear and cut into 1/2-inch wedges. In a small saucepan heat jelly, lemon juice, and mustard over low heat, stirring, until blended and jelly is melted. In a bowl combine beets and pear with warm dressing, tossing to coat.
Divide greens among 4 salad plates and spoon beet mixture over them. Sprinkle salads with chives. The vegetable beet and pear salad is ready to serve ....great taste !