Japanese Cuisine
Known for its seasonality of food, aspect and quality of ingredients, the Japanese cuisine is rapidly becoming a trend worldwide. White rice and soybeans are the ingredients you should expect to find in almost any dish. According to Michelin Guide that ranks cities worldwide for their restaurants, Tokyo is the most delicious city, with 150 top-ranked restaurants, as opposed to Paris and London that have 148. Apart from its capital, it is fascinating to uncover the local cuisine throughout Japan.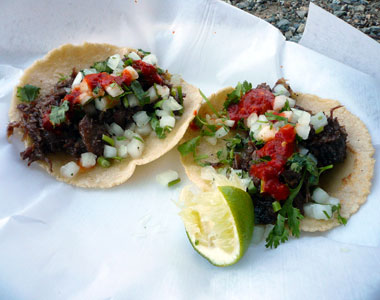 Don't look at them as "junk food"; some of the world's best cuisine can be found at the street merchants from around the world. Mayonaisse-covered frites, huge banh mi
sandwiches
, fresh tortilla tacos, currywurst, tripe sandwiches, arepas, Jamaican jerk pork and jerk chicken are just some of the fare peddled at food stands that should appeal to most westerners.
Perhaps one of the oldest in the world, the Italian cuisine can be traced back to the 4th century BC. It became what is today along with the discovery of the New World, that brought potatoes, tomatoes pepper or maize on the list of ingredients. An Italian meal is structured into several sections: antipasto (the appetizer), primo (pasta or rice dish), secondo (meat course), dolce (dessert). Italy is also famous for over 400 kinds of cheese, including the famous Parmigianino Reggiano, and 300 types of sausages.
England Culinary Award at the BVI Charter Yacht Boat Show in
Tortola
for Best Entree. KC won against stiff competition to be awarded the title preparing her very own Island Spiced Pork Tenderloin with sweet mash potato.