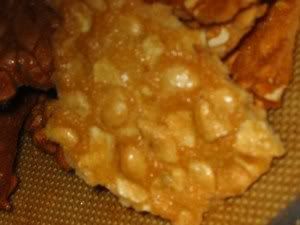 Nutty Crisps Recipe Ingredients:
1 1/2 - 2 cups nuts - almond flakes/cashews etc
3 egg whites or 6 tbsp egg whites
1/3 - 1/2 cups fine granulated sugar
1/4 tsp salt
1/4 tsp almond essence/butter oil
2 tbsp oil
1/4 cup flour
Method:
Spread the nuts on to the baking sheet.
Turn on the oven to 350F convection to preheat and put the baking sheet with the nuts to roast.(you are roasting the nuts starting with cold oven/0 degree f )
Turn on timer to 10 mins for almond flakes and 15 minutes to cashews(time differs with different oven, so check the nuts at 5 minutes interval for doneness)
Line a silicone sheet on another baking sheet and put in all the ingredients. Mix thoroughly and spread out as thinly as possible. (If silicone baking sheet is not available, line the baking sheet with aluminium foil and grease the foil lightly)
Put to bake for 16 minutes and the crisps should brown at the sides.
Turn off oven
and leave the crisps to brown. Check the oven every 5 minutes, crisps should be totally brown and crisp in 10 - 15 minutes.
Remove crisps from oven and leave to cool. Once it has been cooled, it can be broken up at random and enjoy.
Serves