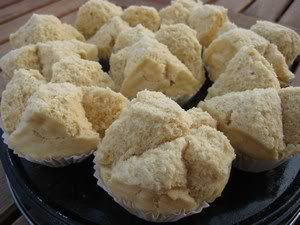 Fatt Koh/Huat Kuih Recipe Ingredients:
250 gm self rising flour
140 gm chinese peen thong/gula melaka/gula kabung
100 ml water
150 gm very thick coconut milk(by weight)
a pinch of salt
Method:
Chop up the sugar into small pieces and add 100 ml water.
Cook in the microwave or stovetop until sugar melts. Sieve and let it cool.
Add all the ingredients in the cake mixer and using the whisk, whisk until thick and smooth.
Heat the spaghetti pot with 2 inches of water and bring to high boil with the cups on the steamer to heat them before pouring in the batter which should be 90% full. Cover lid tightly and steam for 15 minutes. The kuih should smile if the right amount of batter, time for steaming and maintaining high heat are observed.
Notes
The ones made with gula melaka are very fragrant while the ones with peen thong are very plain but not floury though.
Serves