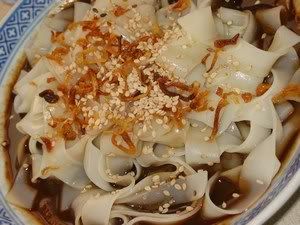 Ingredients:
a packet of vietnamese rice stick Hu Tieu
Garlic oil
Sweet Sauce (recipe is in Chee Cheong Fun)
Fried Shallots or garlic
Roasted Sesame seeds
Method:
Cook the rice stick according to the instructions on the back of packet. Rince in cold water and drain dry.
To serve:
Top a plate of cold hu tieu with garlic oil, sweet sauce, fried shallots and roasted sesame seeds.
Enjoy
Serves