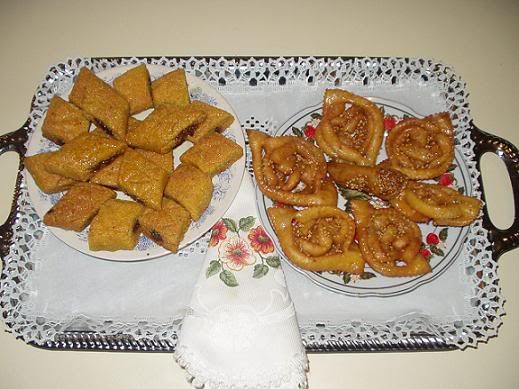 algeria food
Algerian food is characterized by the interplay of European and Arab influences. The shakhshūkha, barrāniyya, couscous, and skewered foods are inherited from the Arabs, Berbers, and Turks, whereas the soups, mixed salads, and some desserts are European influenced. The group of dishes known as shakhshūkha are vegetables cooked with lots of eggs stirred into them. They derive from a Turkish dish made with bell peppers, onions, and eggs called şakşuka. One will often hear that this is an Israeli dish. It is not. It is Algerian, but it's true that Algerian Jews in Israel brought the dish with them when they immigrated.
algeria food
algeria food
The category of dishes known as barrāniyya is breaded or floured vegetables or meat that are fried with oil and cooked in a sauce. The word barrāniyya comes from the Arabic root word meaning "to surround." Another group of dishes are cooked in the style of shaṭīṭḥa, a word that means "that which dances," implying that the sauce is so piquant it makes the food jump in your mouth or that it jumps in the skillet, since it is cooked like a fricassée.

algeria food
algeria food
The two main cooking methods in Algerian cuisine are simmering and braising, although the others, such as boiling and grilling are, of course, used also. Two kinds of sauces are used, maraqat ḥamrā, red sauce, and maraqat bayḍāc, white sauce. Sauces are not usually made separate from the meal, as they are in French cuisine. Some sauces use aghda, an emulsifier or binding agent made from finely chopped egg whites and other ingredients.
algeria food